Innovative Connection Between Insurance & Technology
7 min read
Feb 9, 2022 5:00:00 PM
Think about the time when looking for insurance claims? The simple yet long solution to the same is making multiple calls and sending emails to your agent. The process is so long that customers often complain about the poor and lengthy process. And thus, most customers look for digital tools to monitor their claim status.
As technology is advancing daily, customers look for better and quick digital solutions to check their insurance status. This is narrated as the connections between technology and the insurance industry.
To all the compound procedures in the insurance industry, advanced technologies like Machine Learning and Artificial Intelligence serves as the ideal solution to many complexities.
According to Gartner Research, Insurers in the year 2019, spent more than 200 billion on technology to advance in the industry with very little proceeding time. So let's start with some of the amazing technologies that can transform the face of insurance.
Connection Between RPA, Machine Learning, and Workflow Automation
Workflow automation allows insurers to deal with follow-ups and underwriting in a simpler and faster manner. This process reduces the cost of expenditure while focusing on more creative tasks.
One such company that played their cards right in the same technology is Fukoku Mutual Life Insurance when the firm adopted Artificial Intelligence and unveiled innovative business models. The firm is now expecting to boost its productivity by 30% and save over $1.25 million shortly with the help of AI.
Workflow automation covers many aspects of insurance like payments, data entry, damage claims analysis, and much more. Fukoku, as a matter of fact, reduced their call times by half and also achieved 100% accuracy in their data.
Connection Between Optical Character Recognition and Paper Records
One complex procedure in the world of insurance is inbound documentation and correspondence. The process required going through thousands of papers from archives, which can be time-consuming and do not contribute to environmental sustainability.
The technological solution to the same is the digitization of files. Technologies like Optical Character Recognition can analyze and store the data in the cloud. Whenever required, documents can be easily retrieved and reviewed with consistent and accurate information at all times.
Connection between Claims, Policy management & Digital Technology
A critical business process in the insurance industry is claims management. When you utilize digital technology in the same field, it reduces manual workflow and human interaction with the users.
Consumers are always hunting for a smooth and less time-consuming process to handle the claims. With automation processes, companies are at the benefit as well with the reduced labor costs.
Automated software by giant companies like Oracle and SAP fulfills standardized policy management tools in the industry. The innovation, however, is mostly fulfilled and carried out by insurtech companies and consulting firms that employ IoT, blockchain, and AI technologies.
Connection Between Insurance Pricing & Social Media
The risk assessment in the insurance industry traditionally relies on impersonalized datasets. However, the trend has now changed as social media can serve a large amount of personal data of the respective user.
Social Media benefits both insurer and the consumer as the business gets more accurate data of the user while the user gets an affordable listing of insurance services.
The data available on social media platforms like Twitter and Facebook discloses customer risk tolerance when applied with predictive analysis techniques.
Connection Between Telematics & Car Insurance
If you have been exploring different technology panels in the insurance industry, the buzzword of Telematics must have touched your ears. Telematics insurance is a renowned and popular group of car insurance products.
This software can be directly installed on a users' vehicle. This device is a hub of advanced features like motion sensors, SIM card, GPS that is supported by analytical software.
This device helps in monitoring speed, time, accidents, driving distance, break, crash scenarios, and location in case of occurrence of a car accident. This model is an ideal solution to collect real-time data to manage the risk of car insurance and respective claims.
P2P Insurance
Peer-to-Peer Insurance gained humongous popularity as it was proved to be one of the most disruptive business models. The model works on a network of people that agree to cover insurance risks by forming a finance pool of premium shares.
Under this model, the traditional intermediaries, that is insurance companies, will not hold the primary requirement. The popularity of the model is hugely appreciated among users as insurance companies do not hold any power of decision in the premiums.
Under this model, the money is refunded to the peers at the end of the coverage period. The model is highly beneficial for the users as they intake insurance with low costing and mitigate claim conflicts at the same time.
Connection Between Blockchain Technology & Insurance Industry
According to PWC Report, implementing blockchain technology will serve between $5-10 billion cost-saving for re-insurers from across the world. The benefit of blockchain technology includes reduction of validation and verification of time along with minimized reputation risks and errors. Blockchain technology helps users reduce their interaction with insurers on certain insurance matters.
Connection Between Chatbots & Insurance Industry
There is a list of tedious operations that insurers often lose too much time and cost upon. For instance, hours of the decision-making process and providing apt information to the users at off times can be very challenging for the firms.
The technology of Chatbots, in this case, is a saviour for both parties. Chatbots operate as a large customer care center where users are served all the information regarding their insurance queries in minutes.
This technology reduced the cost of hiring a large team of customer support who are hired just to answer the most basic information to users. This system can also be designed to send automated notifications of renewals and claims whenever requires.
Connection Between APIs & Insurance Industry
Be it any industry, the revenue cycle, and business model eventually fail with the lack of innovation and technology. In the Insurance industry, technology helps in supporting the excellent customer experience. One such technology that keeps users happy and content is API (application programming interface).
Insurers in the past failed to create new models for their customers for their customized needs.
APIs, on the other hand, address the lack of flexibility in the same domain. APIs when served by third parties help in creating new digital products and improve customer experience to be updated with the technological advancement and norms served in different industries.
What Should Insurance Industry Expect from Technology Advancement?
Keeping ahead of time and adapting the new advanced technologies is help various spectrum of industries all over the globe. According to Statista, the investment forecast in technology worldwide is expected to reach $4679 billion in 2023.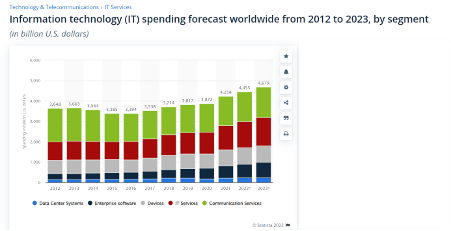 In the insurance industry alone, there are many benefits and flexible solutions that firms can look for while adapting to different technologies. Some of the perks as expected by industry firms are:
Cutting costs: In comparison to traditional carriers, a digital insurer has a significant competitive advantage. Turning to the online platform ecosystem enables lower distribution costs and improved consumer communication via social media, emails, mobile applications, and other means.

More precise risk assessment: When it comes to driving assistance or health and lifestyle monitoring, the digital business model allows for greater risk assessment and, in certain cases, even helps to avert insured occurrences.

Improved client service: The usage of mobile applications and social media integration allows for a deeper knowledge of a consumer and assures availability 24 hours a day, seven days a week.

Move from reactive to proactive decision-making: Insurance is a data-driven industry that must take into account a variety of customer-related criteria and heavily rely on statistics. However, the industry continues to rely on past data rather than real-time information. The promise of the data streaming and hyper-personalization of various wearables and sensors has yet to be realized.

Broadening portfolio: Insurance companies may cover extremely precise risks and engage with new micro-segments thanks to a large number of data records available. In addition, the nature of incurrence goods is reconsidered.

Insurers become more resistant to scams: APIs and mobile reduce the time it takes to discover fraud and increase the rigor of the assessment process.
Conclusion
Without a doubt, the insurance industry is already implementing major changes in the processes and claims by adopting advanced technologies and business models. Thus, the increase of IT talents and support team is highly significant as well.
Insurance applications and software improved handling of claims and communication with a smooth digital process.
Some of the emerging technology trends like Telematics, AI, Machine Learning, and Wearables will soon dominate the industry to stay ahead in the competition. The operational efficiency will boost the revenue model for insurance companies.
Wearables and telematics may be used to track consumer behavior, reduce risk, and create new business models.

Companies may use AI insurance solutions to provide customized quotes to consumers, incorporate Robo-advisors, and increase fraud detection.

Blockchain technology aids in process control and transparency.

Insurance APIs make data exchange easier, increase product distribution through internet channels, and eventually allow insurers to recommend more adaptable products.
The digital transformation of the insurance industry has already begun. Users are already demanding changes in claims processes. So it's already time to transform the traditional ways of insurance processes to the digital era.
From Chatbots to Artificial Intelligence, the technology trends are already transforming different areas of insurance and other industrial peripherals.
How TransformHub can help and how to reach us!
To beat the competition and stay ahead, insurance companies need a path to realize the true potential of technology. TranformHub partners to provide the same path. From digital transformation and automation to cloud engineering, TranformHub lays the road map for insurance companies for technological advancement and right speed to build and grow the insurance business model.
With the correct engagement model and quality assurance, TransformHub serves benchmark for insurance companies to improve not just the returns but a seamless user experience. Contact us today to know more about Insurance Tech Trends and how to adopt the methodologies for a triumphant development.
For additional details on how we can elevate your company's brand, connect with the specialists at TransformHub at sales@transformhub.com