Cloud migration and its impact on traditional applications
6 min read
Jun 11, 2020 4:30:00 PM
As per a recent O'Reilly survey, more than 88% of organizations are already using some form of cloud infrastructure while 45% are thinking of migrating three quarters or more of their apps to the cloud in the next one year. These companies aim to provide better IT solutions to their users. Technologies present a new and improved application development environment for enterprises. The point is, are you ready?
Cloud has brought about a continuous disruption in the world of IT. As per a commissioned study by Forrester Consulting on behalf of IBM, 82 percent of the 350 IT infrastructure decision makers surveyed worldwide expected their companies' funding for public cloud to grow in the next two years and believed that more than half of mission-critical workloads and 47% of data-intensive workloads will be run either on-premises or in an internal private cloud in 2 years.
With such a strong and growing focus on cloud, I hope to address some very pertinent points related to cloud migration in the second blog in the cloud computing series. We did speak about different Cloud engineering solutions in our previous blog along with the top 3 cloud computing companies and why it made perfect sense to migrate to the cloud.
We now delve deeper to understand its impact and the cloud service model you may want to consider. Read on.
The incremental approach to cloud migration
Every cloud migration story is going to be different and rather than rushing workloads to the cloud, an incremental approach can help in smooth transitioning. There are mission-critical workloads to consider that can affect the entire business and lead to outages if migrated in a haphazard manner. Be it customer relationship management, data warehousing, or enterprise resource planning, it is important for enterprises to ensure that they plan the migration well in order to provide proper cloud migration services.
It's important to understand the different types of cloud service models that are available out there to decide which one would be right for you. Those popularly used include IaaS, PaaS, and SaaS. The incremental approach urges you to consider each one in the exact same chronology choosing the right one as per your specific needs with the help of IT consulting service.
Infrastructure as a Service or IaaS
Examples: AWS, Azure, Google Cloud Platform, Alibaba Cloud
A pay-as-you-go approach to storage, networking, servers, and other computing resources, IaaS is ideal for those who would want a third-party vendor to take care of their storage and server space requirements giving them enough time to focus on development, deployment, and monitoring.
Highlights:
You are required to pay on demand instead of paying upfront costs for the hardware
Infrastructure is scalable, allowing you greater flexibility and control over software and hardware
No failures or outages since data are secure on the cloud
Platform as a Service or PaaS
Examples: AWS Elastic Beanstalk, Heroku, Google App Engine, Engine Yard
If you want your applications to be portable, it may be a good idea to have a PaaS as an IT service platform that's robust and offers a full infrastructure environment. PaaS is great for those who are looking for ways to reduce their ready-to-market time. Apart from storage and computing resources, PaaS also gives you greater power through a bunch of prebuilt tools.
Highlights:
Offers inbuilt tools to help you test, develop and host applications in the same environment
The preloaded software ensures you have to look into the deployment of the uppermost layer of your application only without having to worry about the underlying infrastructure
Everything from security and operating systems to server software and backups is taken care of by the service provider
Empowers remote teams to work in collaboration
Software as a Service or SaaS
Examples: Google G Suite, Office 365, Salesforce, NetSuite
SaaS is a unique delivery model wherein the vendor offers cloud-based software on a subscription basis. Instead of installing applications on local devices, you allow them to stay on a remote cloud network which is an effective way to use Cloud engineering services. You then access them via Web or an API and use this model to manage all your needs.
Highlights:
Easy to use, easy to set up
SaaS provider manages, installs or upgrades software as needed
Since data is secure in the cloud, the risk of losing data is never there even in case of equipment failure
You can access applications from wherever you are via an Internet-connected device and log in
Gartner has studied the market closely and predicts SaaS to grow into the largest market segment followed by IaaS that will become the second-largest sector. Says Sid Nag, research vice president at Gartner, "Cloud computing adoption has now become mainstream. That means higher spending on cloud, but also higher expectations from cloud buyers as to what they will get for their money."
He further adds," Cloud-native capabilities, application services, multi-cloud and hybrid cloud comprise a diverse cloud ecosystem that will be important differentiators for technology product managers. Demand for strategic cloud service outcomes signals an organizational shift toward digital business outcomes."
The cloud migration checklist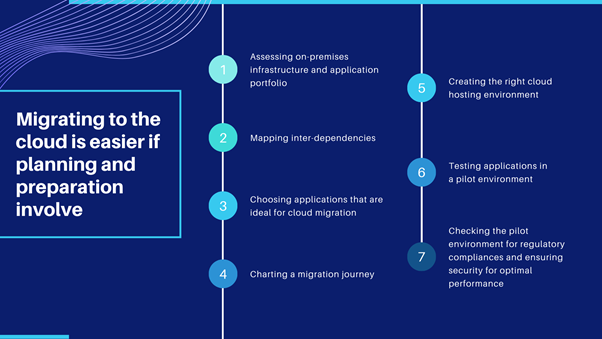 Migrating to the cloud is easier if planning and preparation involve:
Assessing on-premises infrastructure and application portfolio
Mapping interdependencies
Choosing applications that are ideal for cloud migration
Charting a migration journey
Creating the right cloud hosting environment
Testing applications in a pilot environment
Checking the pilot environment for regulatory compliances and ensuring security for optimal performance

The cloud migration impact
In the current digital era, cloud computing is the new normal. Gartner predicts that all leading cloud service providers are likely to have a distributed ATM-like presence by 2023 in the form of microdata centers in order to serve a subset of their services. Mr. Gregor Petri, Vice President Analyst, Gartner says, "CIOs looking to prepare their organization to thrive in the upcoming turns must take a differentiated approach to cloud computing. It will be essential for CIOs to develop a formal strategy that helps to put individual cloud decisions in the context of the enterprise's strategic goals."
Legacy applications are undergoing an evolution of sorts with the addition of new features and capabilities to improve productivity, cost as well as performance.
Most of the legacy applications are built on monolith architecture. These applications are supporting critical business applications. So, migration to the cloud has to keep in mind the risk associated with unavailability and outages. The most common strategy is to lift-and-shift an application and its data with as few changes as possible providing the fastest time to production.
The follow-up project can be the application revamp over time leveraging the modern application methodologies and architecture which involves but is not limited to disintegrating the application into multiple microservices based on business functions, containerization of these microservices, cloud services integration etc.
TransformHub is the AWS partner based out of Singapore and helps an organization migrate its workload to the cloud. It helps organizations reap cloud benefits of flexibility, performance, security, and scalability.
Some benefits of cloud migration that our customers have experienced and happen to be our strong value additions include:
Reduction of operational costs and total cost of ownership
Enhanced resource scalability - auto-scaling and dynamic load balancing
Improved operational efficiency
Faster application service deployment
Reduced IT infra complexity
Better or improved business continuity
Technologies present a new and improved application development environment for enterprises. The point is, are you ready?
Cloud migration strategy based on the expected business outcome
No one ever said migration is easy. Yes, it can be quick if you create a plan and allow yourself the freedom to go slow and make some mistakes along the way. What you need is a strategy based on expected business outcomes. Separating the most-used resources would be a good idea for scaling and having a better development cycle. But once you migrate, the benefits are extraordinary.
As per a recent O'Reilly survey, more than 88% of organizations are already using some form of cloud infrastructure while 45% are thinking of migrating three quarters or more of their apps to the cloud in the next one year.
We suggest you let our experts handle the cloud migration complexities for your business so you can focus on moving your business forward.
In the next blog, let's discuss cloud technologies in greater detail and the security concerns surrounding cloud adoption.
Nischal Tanna
Founder | Group CEO
TransformHub