Cloud implementation essentials every business needs to know
4 min read
Jun 10, 2020 3:56:00 PM
cloud engineering services have become the ideal way to deliver enterprise applications. The enterprise IT consulting services can be implemented together with appropriate monitoring, management, integration, and automation solutions without creating chaos. And companies can then take advantage of the benefits that the cloud offers in a comfortable and easy way. Here are some essentials which every business needs to know while implementing a cloud strategy.
There would hardly be anyone around who would deny the benefits and the extraordinary cost saving cloud engineering services offers. A lot has been said and written about Cloud Economics. Yet, any business that tends to overlook it while making economic decisions and often get trapped in evaluating just the migration risks.
As a representative of a digital transformation company, I hope to address 'all things cloud' through this blog series - typically the different cloud models and explain why adopting a cloud computing culture is indeed a wise move. Later in the series, I'll go on to discuss the cloud migration approach, concerns every enterprise has with respect to cloud security, and how having a digital specialist technology partner for building cloud-native architecture and applications makes perfect sense.
Here's a quick lowdown on our Cloud Engineering solutions.
Benefits of cloud
Forrester in its 2020 predictions expected the public cloud market to touch $299.4 billion. Cloud gives you power, control and flexibility to manage workloads, that too from a single point, driving both performance and growth.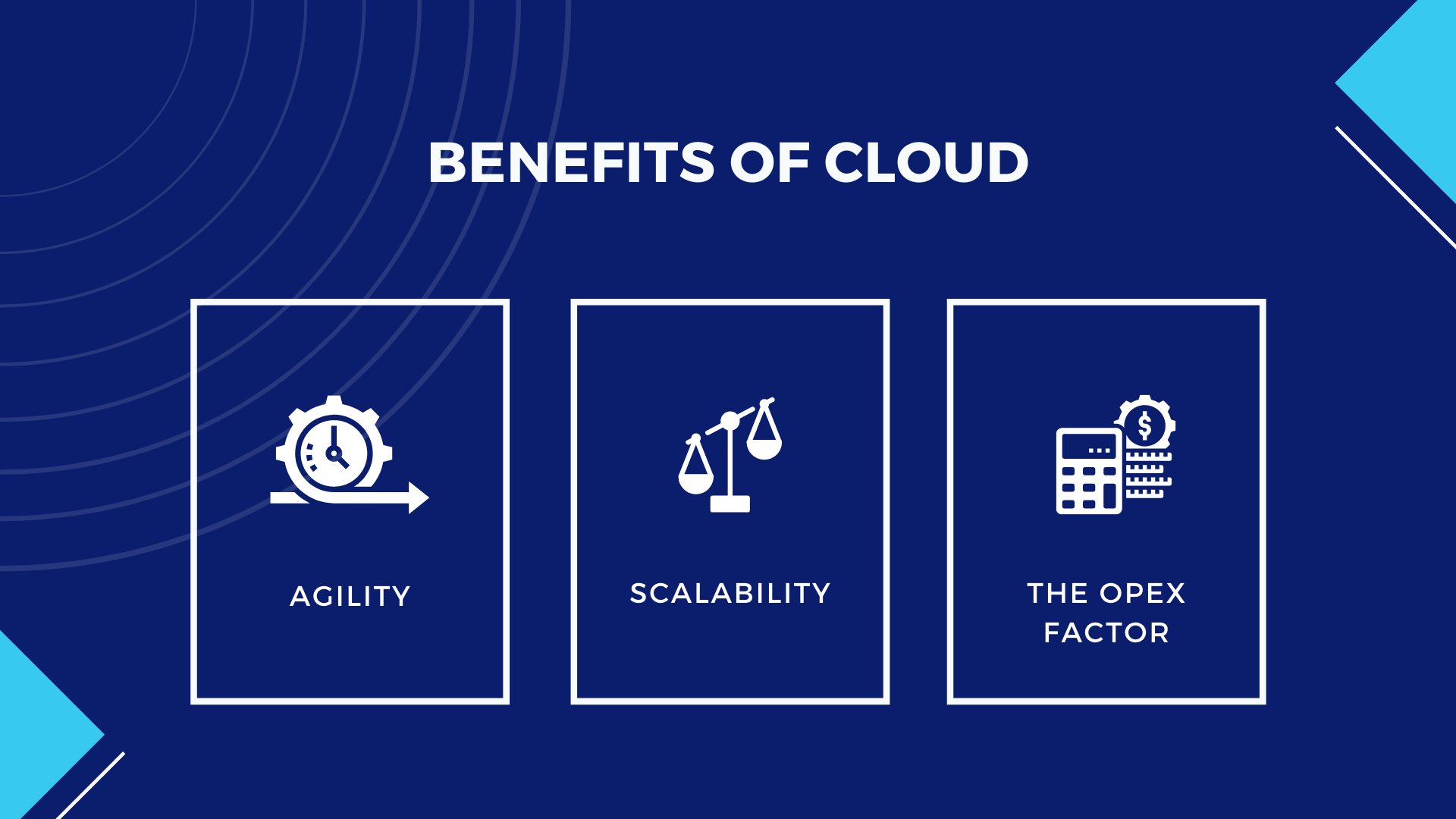 Here's what it can help you achieve.
Agility -High-speed deployment is the need of the hour. The right cloud platform can help you navigate and orchestrate the seemingly complex landscape with ease by providing efficient IT services. You can simply customize applications and access the services you need without much ado via a secure Internet connection.
When you look at the amazing capabilities like cloud dashboards, real-time statistics and active analytics bring along, you will realize how effective it is in not just alleviating your burden but in understanding how productive teams actually are. So you know exactly how much a person does and what it costs to your organization.
Scalability - The beauty of the cloud is that it allows you to scale. No matter how big the workload gets, you can accordingly add resources to your existing deployment in a way that there is minimal or no downtime.
Cloud is all about power and versatility. It revolutionizes the IT infrastructure even for smaller enterprises enabling them to ramp up their computing resources quickly. From saving data to hosting applications, the cloud takes care of just about everything to make workload managing seem like a cakewalk.
A typical 'your cloud your way' approach allows a ramp down too. This kind of auto scaling capability is just what Cloud Computing Companies need in times when customer demands and enterprise offerings both are dynamic.
The OpEx factor - In an effort to slim down their already bloated legacy deployments, enterprises are doing everything they can to shift their focus from Capital Expenses or CapEx to Operating Expenses or OpEx. It's a conscious effort to move towards consumption-based models while maintaining the necessary control. The rationale is to calculate the cloud ROI to ensure that there is ample grip on IT expenses so that they do not impact the bottom line adversely. The current pandemic has already gotten everyone thinking of cutting corners. According to Gartner, IT spending will be down to $300 billion in 2020 as a result of CIOs' effort to curtail budgets in the wake of the current COVID-19 pandemic.
2020 in particular has shifted the focus from what's new to how much value it's adding. Everest Group conducted a survey in November 2019 to look at the key issues enterprises faced in global sourcing. The results suggested that 64% admitted to increasing focus on value while 32% increased their focus on cost. Not surprising then, it only gets more serious here on given the fresh challenges we are now facing in these trying circumstances.
Choosing the right cloud model
In order to get complete value from the cloud, it is important to choose the right type depending on your needs.
Let's look at the four main types of cloud environments to consider.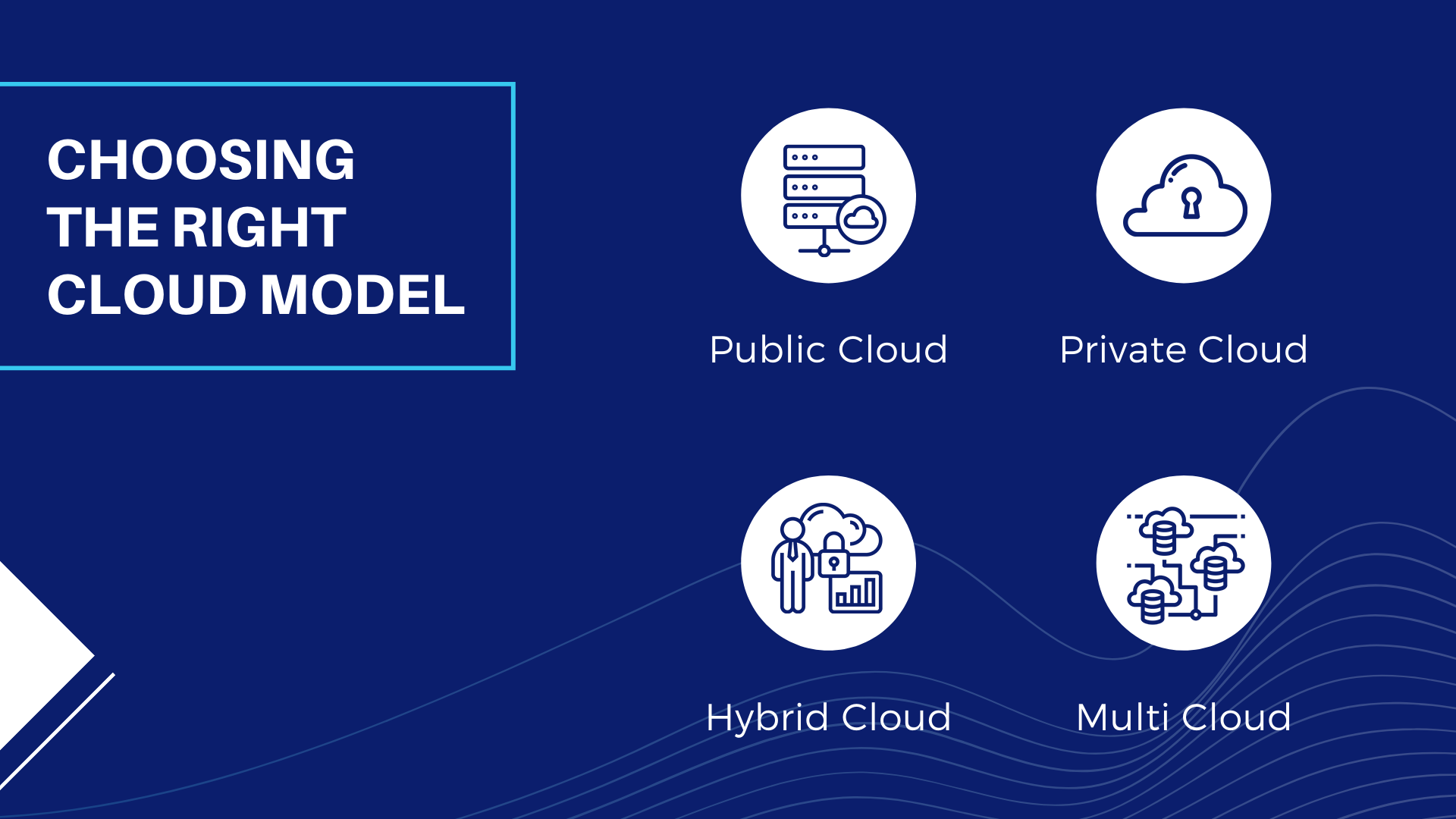 Public Cloud -From common IT services like storing emails and public data to managing enterprise-grade OS platforms and environments for software development and testing, the public cloud works well for those embarking on using Cloud for applications that are typically non-transactional in nature like CRM, DevOps, Analytics and even having a Disaster recovery infrastructure.
Private Cloud -If you want something specially built for your business, you are looking for private cloud technology. It's extra secure, gives greater control, and offers customized functionality and scalability to users. A private cloud is customizable and is suitable for those who can invest in high-performance technologies and need high scalability to meet unpredictable demands in terms of IT solutions.
Hybrid Cloud - This one is a mix of the earlier two to give you a more varied environment. So you get to store sensitive data and documents on a private cloud or on-premise while other high-volume less-sensitive stuff can be stored on the public cloud. Enterprises often prefer their versatility and the fact that it allows them to migrate easily from one to the other as required.
Multi-cloud - Often multi-cloud uses a mix of different public clouds though at times it may even use private clouds if need be. It's flexible and scalable. It helps you leverage the strengths of multiple cloud providers while avoiding lock-ins with any one of them. This in turn helps you optimize cost and performance and share workloads among all the chosen services.
Right cloud implementation partner
The cloud battle only thickens with time. With intelligent cloud engineering solutions, you can maximize business value. I bring my industry understanding to the fore to explore and explain the many aspects of cloud computing through this series. In my next blog, I'll address cloud security concerns, and help you choose the right cloud migration incremental approach along with right cloud implementation services. Also, I'll discuss the impact it has on the myriad applications.