Why Technology Won't Help You Understand Your Customers
7 min read
Dec 11, 2021 11:00:00 AM
In the highly data-driven world of today, every organization is hastily jumping on the digital bandwagon.
No doubt, digital transformation is giving them the edge to fight competition and get closer to their customers.
But what's the point in simply getting close to the customers and not having a clue as to what they actually want?
Modern organizations are collecting a wealth of information only to find themselves sinking under its weight due to the huge knowledge void that is being created due to a lack of proper approach and insights.
Amidst a sea of information and digital tools and techniques, many have forgotten to focus on the one thing that truly matters - customer experience (CX).
Whether you are looking for a cup of coffee or a financial service, despite the myriad choices available all around you, you will end up paying a bit more for something purely for that personal touch.
The decision stems from your personal experience - the service may have been better, the representative might have been very supportive, the ambiance may have been relaxing, or the taste of the coffee may have been customized to suit your taste.
Many companies lose out on customers simply because they fail to strike a balance between customer experience and satisfaction.
As per PwC, one bad experience is all it takes for consumers, one in three to be precise, to walk from the brand they love.
This figure is as high as 49% in Latin America but the point we are making is that customer experience is the cornerstone.
Research confirms that 43% of consumers are willing to pay more for greater convenience while 42% are ready to do the same for a friendly, welcoming experience.
Customers want speed, convenience, consistency, friendliness, and above all - the personal touch.
The right digital transformation company can help you understand your customers and give them what they want just the way they imagined.
But while trying to digitally attain satisfactory customer comfort levels, organizations must remember that the lack of personal touch can make their marketing efforts go off the rails.
The knowledge void
New thinking and the right attitude towards creating stellar customer experiences around digital and tech can go a long way.
Having the right culture is also important because although customers generate revenue, it is ultimately the employees that drive the experience.
The key is to reduce friction between consumers and employees in a way that they both understand each other and celebrate their association with the brand.
After all, technology is just an enabler and real solutions will be possible only when organizations realign their priorities to come up with innovative ways and strategies to extend a flawless customer experience.
It would be easier to achieve it if they acknowledged that:
Generational fixation is unnecessary

More data is not equal to better data

Customer expectations may be different than you think


The customer expectation versus customer satisfaction gap is huge
1. Generational fixation is unnecessary
Be it Gen Z or any other generation, everyone wants everything to be instantly available.
The experience is expected to be convenient and seamless from tablets and smartphones to desktops and human interactions.
Customers now expect an omnichannel experience to shop from wherever they are.
2. More data is not equal to better data
Just because a survey garners a good response rate does not mean you have good data.
Data should be actionable and offer insights to drive business decisions.
The amount and frequency of data can be overwhelming but you need to have the right tools and platforms to analyze it in order to set priorities and take remedial action.
3. Customer expectations may be different than you think
Customer choices are fickle and shopping is now more of an impulse thing.
Just when you think they are looking for something chic but inexpensive, they may surprise you by choosing something extremely extravagant because of the way it was marketed to them.
How brands engage with customers can make all the difference.
4. The customer expectation versus customer satisfaction gap is huge
As customer needs evolve, upskilling the workforce has become very crucial to address the gap between customer expectations and customer satisfaction.
The good part is that this gap also creates an opportunity sweet spot that should be leveraged well.
The human element of customer experience can alleviate customer frustrations and help restore faith in the organization.
Redefine your customer experience goals
Understanding what your customers want is half the battle won.
Apart from speed and convenience, what they really want is the feeling of being appreciated.
They will talk when they are happy and even when they are not.
A survey by American Express revealed that on average, consumers in Singapore tell 24 people about poor customer service experience contrary to just 12 people when the customer service experience is good.
But Singaporeans are also the third in the world to appreciate suggestions pertaining to additional services or upgrades.
In fact, American Express has always been ahead of its time when it came to understanding customer needs.
The efforts it put into enhancing processes, adopting technologies, and modifying products empowered it to drive an experiential shift that led to a whopping 400% increase in customer retention.
Be human
Modern businesses cannot rely on humans or machines alone but need a mix of both to drive better experiences.
Despite the constant talk about technology, consumers still prefer human interaction; technology being just a facilitator, not the final destination.
While it's common to rely on self-service checkouts, websites, apps, etc.
consumers still want to talk to a real person when they want to be heard.
You need to embrace the human connection and it has to begin by supporting your own people first.
Give them the right tools and smarter technologies to help them do their jobs better so that they feel empowered to help the customers.
As per a survey, 82% of consumers in the U.S. and 74% of non-U.S. consumers want more human interaction going forward.
While planning any CX initiative, make it all about people with an 'experience first' tone.
Strive towards building a work environment where customer-facing roles are looked upon as coveted positions and not mere jobs.
Choose customer experience over short-term financial gains and make sure that every employee within the organization is committed to offering a high level of customer satisfaction.
Customers are aware that technology and innovation are now at the forefront of everything and yet they may not always recognize the myriad touchpoints where they impacted their interactions.
A vast majority for instance is unaware of cloud technology even though they interact with cloud technology hundreds of times a day.
It is evident that from a customer perspective the technology used is not as important as the role it plays in enhancing the customer experience.
Mobile application development that underlined simplicity and user-friendliness therefore was of paramount importance for a company like Oscar Healthcare.
Liz Robau, a technology communications manager at Oscar explains, "Oscar is about connecting people.
All the technology, it's just to facilitate that. And it should be easy.
Healthcare should be a consumer product after all—it hasn't been, to date—it's been dictated by big healthcare companies, but we're changing that.
People are paying premiums and they should be getting a great experience."
Software development company are now extremely focused on enhancing customer experience by striking a perfect balance between design and function
Other CX essentials
You need to improve the customer experience while instilling the trust every customer needs.
The following CX essentials can increase the credibility of your business while giving customers the assurance that their data is in safe hands.
Ensure transparency
In a day and age when data is being exchanged constantly, it is important to build secure ecosystems that ensure limited data sharing giving customers full control and agency.
They should be allowed to opt-out of services and subscriptions and restrict or delete data in cookie policies.
Salesforce in its State of the Connected Customer report emphasizes the importance of trust and data security stating 73% of customers believed trustworthiness mattered more than it did a year ago.
Safeguard privacy
Organizations need to adopt stringent security measures and raise security awareness to protect customers as well as employees from digital media manipulation, deep fakes, fake personas, and all such strategies and antics that cybercriminals and bad actors use to create a false sense of urgency and persuade people to hand over sensitive data.
With crime and terrorism on the rise, it is every organization's responsibility to address privacy concerns and protect their customers from Internet fraud and cyberbullying.
Go omnichannel
In order to address the full spectrum of customer needs, organizations must deliver an omnichannel experience.
While shifting to a customer-centric model, the social media addiction of younger generations and their overreliance on gadgets need to be factored in.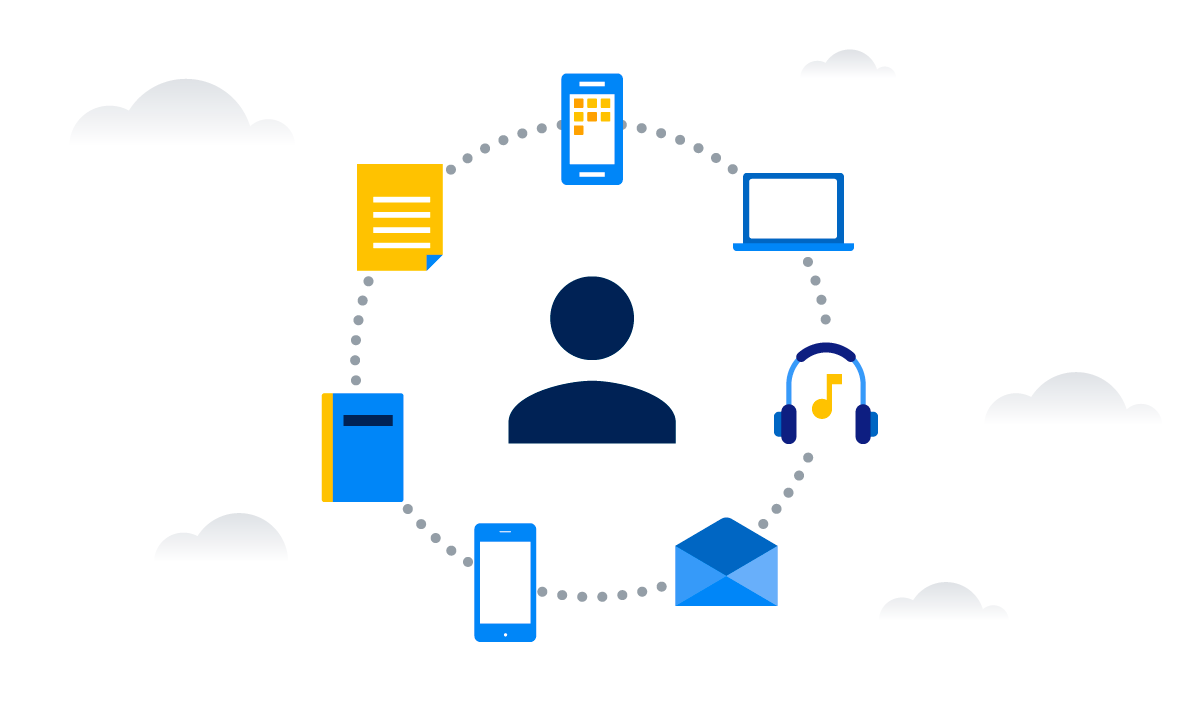 Personalization should be prioritized using technologies such as Artificial Intelligence and Machine Learning.
Depersonalized warfare can never work in a digital world when customers are looking for a personalized experience at multiple touchpoints irrespective of where they stand in their journey.
As customers continue to move from one channel to another, companies will have to design new engagement paths based on their evolving preferences.
In conclusion
There are ways and means to attain the perfect customer experience but none can be successful unless supplemented with appropriate human efforts.
Machines and technology will ensure constant engagement, delightful experiences, and quick response times.

With the right metrics and monitoring measures, you will realize how far you have reached on your digital transformation journey.
But you will gain and retain your customers in the true sense only when you stay human and relatable.
All you need to do is choose a digital transformation company like TransformHub and make your customers feel heard, seen, and appreciated.