10 Emerging Technology Trends to Leverage in 2021
5 min read
May 2, 2021 10:00:00 AM
The last decade has seen some tremendous changes in technology – from the launch of the iPad to the app ecosystem exploding with over 5 mn apps. In 2023, mobile apps are projected to generate more than USD 935 bn revenue. That's the kind of impact technology has which led to firms like Facebook, Twitter, and Amazon bringing people on the digital pedestal.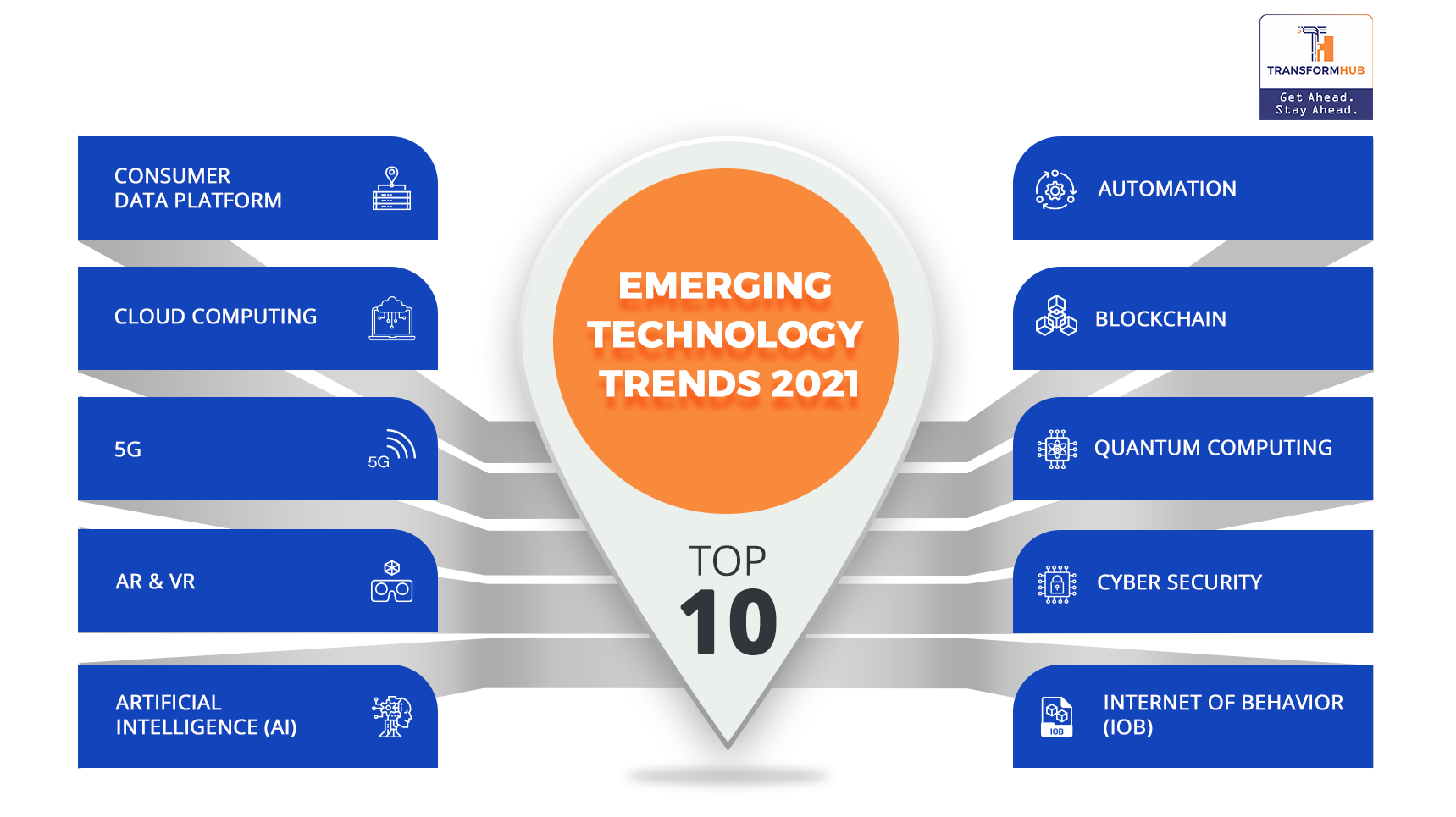 Undeniably, technology plays a key role in the growth and sustainability of every industry. Though companies were adopting the technology based on their roadmap, the demand to go remote-first has fueled the tech adoption across the industry and pushed the use of digital platforms creatively.
Our research team at TransformHub believes that 2021 holds a lot of opportunities to grow and advance business operations. However, its copiousness comes with the obligation to use them responsibly.
Here are 10 trends to leverage.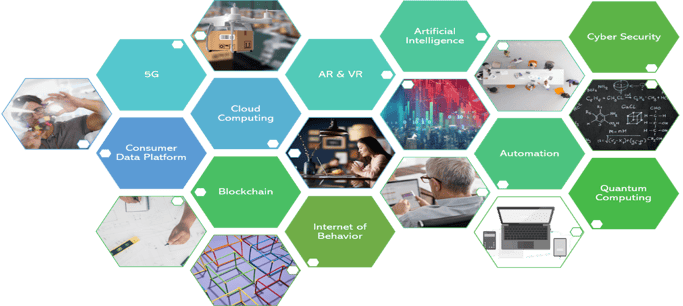 Consumer Data Platform (CDP): In the current age, digital marketing is leading the way, but it is nothing without data. Given that, brains behind the marketing campaigns need a unified customer database based on factual figures, customer data platform solves this challenge. It provides a managed system of unified customer databases which can easily be piped to other systems. Not only this is persistent and comes as a packaged system, but it also has real-time data capabilities as well. Major tech companies like Adobe, Oracle, Treasure Data are building cutting-edge CDPs.


Cloud Computing: In recent years, major cloud providers like AWS, Azure, and Google have diverted their focus to providing custom solutions to enterprise customers with more hybrid cloud systems. The hybrid model of cloud computing helps companies using in-house infrastructure and public cloud services as well. This allows the reduction of CapEx (Capital Expenditure). Startups and Tech first companies are focusing on being cloud-native to be agile and scalable without hampering the growth scale.


5G: World has already seen the potential of high-speed networks and many organizations have tasted success with innovations. In 2021,

5G is going to revolutionize connectivity

. Unlike 4G, 5G will not be limited to cell phones. High bandwidth and lightning-fast network speed will help industries to offer cutting-edge experiences in AR, VR, AI, connected cars, Audio/Video streaming, to list a few.




AR & VR: While Augmented Reality (AR), a technological advancement known to offer an enhanced experience of a mix of real-world and computer-generated objects, Virtual Reality (VR), on the other hand, takes us to a virtual world generated through computer simulation technologies. Today, high data speeds and powerful handheld devices are stimulating the practical implementation of AR and VR. Designers and engineers are changing the face of learning and operations in many industries like mining, gas, automotive, etc by relying on virtual training via AR and VR technology.

As we progress towards being remote-work friendly, the focus will be on making companies more equipped to handle remote operations, contributing to substantial cut-down of cost in the longer run.


Artificial Intelligence (AI):

Artificial Intelligence has already made its space in the current IT industry and is becoming more intelligent and advanced with each passing day.





From voice to language-driven intelligence to fraud detection, AI resides in the top tier in current tech trends. The congenial bit about AI is that most global organizations are focusing on AI ethics and recognizing the significance of keeping a tab on it, since its opaque algorithms can cause ill in society as well.

However, considering the virtue it has to offer, AI will remain in trend in the coming decades too. Smarter machines powered by AI engines will be power tools for the organizations to achieve higher output and growth.


Automation: In response to the global crisis, organizations across industries have focused more on achieving better operation efficiency while spending less. Owing to advanced automation process systems, this trend gained momentum and will remain a major factor in the overall digital transformation process.

The recent events have driven the companies to adopt and rely on touch-free systems to minimize the spread of contagions. Prominent players in RPA (Robotic Automation Process) like UiPath, NTT, ABB are tapping the current market demand and rising to the opportunities that lie ahead of them.


Blockchain: This technology has been known mostly due to the huge success of cryptocurrencies like Bitcoin, Ethereum, to name a few. However, blockchain is not just limited to cryptocurrency.

Smart innovations have proven their credibility in verticals such as:



➸

Digital Assets & Arts


➸

Content Streaming


➸

Insurance and more

In 2021, blockchain is projected to be adopted across industries to make their operations federated and protected from the cyber-attacks. In the Digital Banking industry blockchain is useful to create smart contracts, ledger-based transactions, and KYC (know your customer) management.


Quantum Computing: Quantum computers are next-generation computers which rely on qubits (Quantum bits) unlike current computers which rely on bits (0,1) for manipulations.

Big tech companies like Google, IBM have started the race against time to achieve superiority in quantum computing. This is setting a new trend in 2021, as the possibility of using quantum computers in AI and machine learning will boost the performance and precise predictions.

This implies, running complex data analysis which used to take hours or days could be completed in minutes. An advancement like this can bring about a massive change for business intelligence platforms.


Cyber Security: Cyber security market is growing with the increase in demand for remote working, online classes, remote operations of late. Though many high-tech companies are already using best in class cyber-attack defense systems, there are still quite a few firms that rely on old methods of authentication.

Not only private firms but government institutions across the globe have been attacked by hackers with malicious intent. In just the first two quarters of 2020, there were 445 million cyberattacks

. While this doesn't sound pleasing, it highlights the criticality of having a secure system.



This will help counter the huge number of incidents of phishing, malware, and data breach that have been reported across sectors. Advanced cyber security systems help firms to remain sustainable and competitive in the market.

Internet of Behavior (IOB): Internet of Things (IoT) is a network of interconnected things sharing data over the internet. However, IoB takes IoT to a next level where human behavior data can be shared and utilized. Using smartphones, smart watches, sensors, Artificial Intelligence, and Machine Learning (AI/ML) technologies, companies can provide personalized experiences to end-users. The IoB can also help government organizations for facial recognition and tracking purposes.
So, if you are looking to innovate, trust TransformHub to be your like-minded partner that can help you cut the costs and digitally transform your business with our expertise. Our team does the thinking and focuses on getting the Return on Investment (ROI) and controls the Total cost of ownership (TCO)
Allow us to help you align your goals with fast-evolving technologies to ensure customer centricity and deliver trust. Call us at +65 9198 4440 or write to us at info@transformhub.com to request a free consultation
TransformHub Insights Team