How PropTech is Revolutionizing the Real Estate Industry
8 min read
Nov 6, 2021 11:00:00 AM
Technology is an inherent part of our lives and has become the core of virtually every industry globally.
It, therefore, comes as no surprise that it is now being extensively leveraged in the real estate sector too.
It wouldn't be exaggerating to say it has revolutionized it with innovative real estate industry solutions with PropTech.
In fact, PropTech has become a buzzword that continues to make everyday operations easier for all helping real estate companies and property managers optimize and manage real estate projects.
The PropTech industry solution has been hugely responsible for tech adoption as modern technologies like Augmented Reality (AR), Virtual Reality (VR), Big Data, and Blockchain are now being used for marketing, site visits, sales, and client servicing.
Today, several real estate companies are using technologies appropriately to adhere to global best practices in the real estate industry.
From the listing of properties to enabling developers to fulfill sales and marketing functions, PropTech in real estate is now helping the industry adjust its economic posture following a long lull due to the pandemic.
PropTech - Meaning and Scope
PropTech and its many manifestations RealTech, CREtech, ConTech, and Real EsTech include in their scope all technological and digital innovations that have been disrupting real estate markets.
It is a blend of real estate and technology, and despite being in a very nascent stage has been helping the real estate industry modernize the process of searching, selling, designing, constructing, and managing residential and commercial properties.
PropTech helps property leaders make better decisions, lower costs, and increase revenues.
As per a survey by ULI and Godwin, industry leaders and operators have cited data analytics as to the new technology focus for the next 3 years while 75% of respondents confessed such applications were positively impacting their business.
PropTech is helping real estate companies enhance digital accessibility and enable buyers to engage with the property's website and digital content.
Total PropTech investment has increased at a CAGR of 78.4% in the period between 2017 and 2019 during which the total funding increased from $1.87 billion to $ 5.95 billion with the United States in the leading position.
A record-setting #31.6 billion VC investment in PropTech companies in 2019 further iterates the importance of having a robust PropTech ecosystem.
Clearly, real estate technology is thriving and creating opportunities for those who have a solid digital infrastructure.
Software development services are laying a strong foundation for real estate companies leading them on to a truly transformative path.
Gearing up for PropTech adoption
PropTech has been giving real estate organizations the edge by empowering them to make faster and smarter data-driven decisions.
Data has been playing a pivotal role in elevating customer service.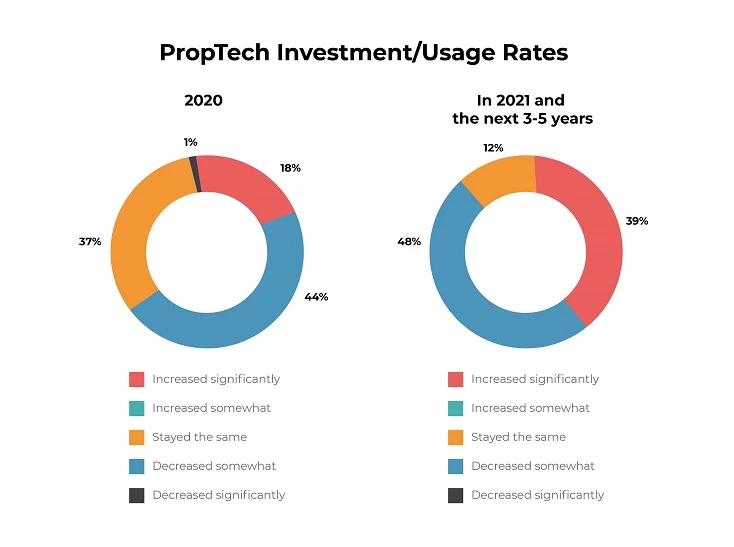 They can now respond faster to the rapidly evolving needs of customers.
In a day and age where everyone is striving to enhance performance and minimize costs, PropTech solutions are creating opportunities for collaborations and partnerships encouraging industry leaders to adapt to change.
Those wanting to reap PropTech success should be:
Focused

– Should assign a dedicated team that is proficient in the use of PropTech solutions to address unique business problems.

Strategic

– Should be able to devise robust strategies to leverage PropTech in real estate effectively to attain business objectives.

Collaborative

– Should be prepared to build PropTech capabilities, buy off-the-shelf PropTech industry solutions, or collaborate with experts.

Customer-centric

– Should keep customers at the heart of all endeavors and real estate industry solutions to meet specific demands and address pain points.

Agile

- Should be willing to adapt and make changes in a constantly evolving PropTech environment.

Open to learning

- Should be eager to experiment, implement new ideas, and learn from failures.

Visionary

- Should have the clarity of vision to make the right PropTech-related decisions without losing sight of the ROI.
Making a difference with PropTech
There are plenty of reasons why PropTech took the real estate industry by storm.
It has empowered everyone including property managers, developers, buyers, sellers, and investors with extraordinary tools and solutions.
No wonder, PropTech has sparked trends in real estate and property management that are positively impacting the real estate sector globally.
Data-driven decisions

Smart access control

Smarter buildings

Virtual staging

Live video streaming

Property management software

Homebuilding and customization

1.
Data-driven decisions
As per the 2020 CRE Innovation Report by Altus Group, 45% of respondents confessed spending at least 15% to 25% of their time managing and organizing data while 8 out of 10 CRE firms had created an executive position for managing data strategy and governance.
While the report emphasized the importance of data, it also revealed the challenges pertaining to data collection and analysis.
Fragmented data is ineffective, but PropTech in real estate is changing the dynamics paving the path for real-time data that can be used for making important decisions.
2. Smart access control
In-person interactions are no longer needed thanks to the modern real estate technology solutions like touchless access control systems, contactless visitor management, and cloud-based security systems.
The ability to manage everything remotely drives revenue and lowers overhead costs.
Contactless experiences are now preferred and keyless entry is a boon.
Cloud-based property management solutions enable you to grant and restrict access via mobile apps.
From managing visitors to deliveries, smart access control helps you secure properties and eliminate security breaches.
3. Smarter buildings
The smart home device technology is an important milestone in the evolution of the real estate industry.
As per an Insider Intelligence report, the number of connected devices globally is expected to reach 64 billion by 2025 as the inclination towards having smart home equipment continues to grow.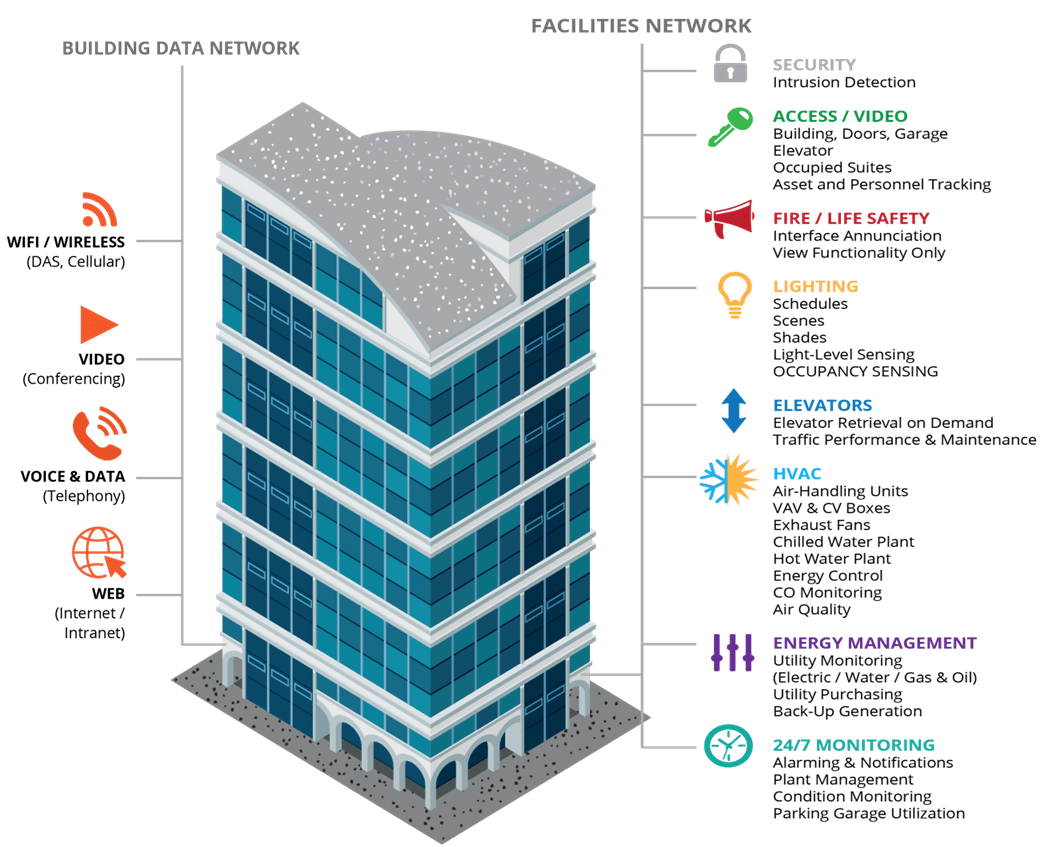 Smart home IoT devices help reduce costs, conserve energy, and enable predictive maintenance.
Speaking of predictive maintenance, Spaceworx CEO Lakshita Wijerathne explains, "You can start predicting the behavior of your equipment, the behavior of your lift system, air conditioning system, the chiller system, and then predict and say, as per the current use, you don't need to do this maintenance every three months, maybe you can postpone it by six months."
Smart home devices reduce the carbon footprint by automating routine tasks and minimizing utility infrastructure and energy costs.
4. Virtual staging
Digital twins are enabling 3D virtual tours and virtual staging, both crucial for sales and marketing.
A 360-degree view of the property with vivid photography provides an immersive experience to viewers.
Buyers can carefully inspect the property and every detail associated with it; be it wall color and furniture or light fixtures and kitchen faucets.
While traditional property staging involves enhancing the appeal of the property, the digital twin of the property offers a cost-efficient and powerful alternative.
It allows sellers to highlight the best features and present a compelling version to buyers across the globe.
This true-to-life experience is further enhanced by the use of Augmented Reality (AR) and Virtual Reality (VR) that enable property managers to showcase multiple properties simultaneously and give potential buyers the feel of actually owning them.
Drones are also being used extensively to showcase every aspect of the property - both inside and outside.
As Ronda Conger, vice president of CBH Homes puts it, "It's about meeting buyers where they are, and they're on their sofas, they're in their office.
That's where you need to meet them and give them the opportunity to buy a home online."
5. Live video streaming
While video tours are undoubtedly important, live video streaming is now one of the most prominent trends thanks to software for real estate companies.
The prolific adoption of live videos is a great sales and marketing tactic allowing buyers to determine if the property is worth their time before they decide to make a face-to-face tour.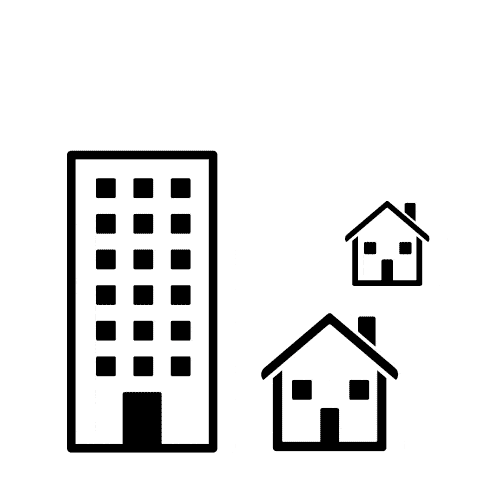 It's transparent and the fact that you cannot edit or hide anything from potential buyers builds trust.
The use of PropTech in real estate has helped improve occupancy as buyers can access properties across the world and make informed decisions.
The popularity of social media gives live video streaming a global stage to bridge the gap between sellers and buyers.
6. Property management software
Several everyday tasks can now be automated for efficiency and accuracy.
The best digital transformation company can help you choose appropriate property management software that's perfect for your business.
Those like AppFolio for instance have topped the list of Fortune's fastest-growing companies clearly iterating how technology has moved from being an industry to being a competency and a differentiator that determines the success of any business.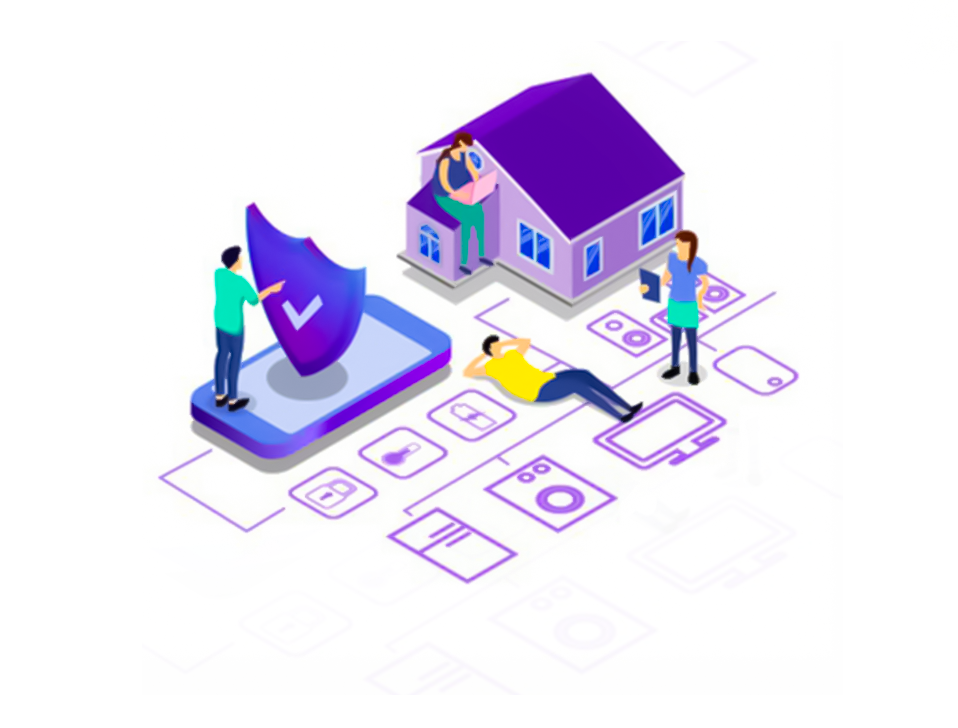 Especially when it comes to leasing agreements that are often long and tedious, property management systems help make amendments faster and keep a tab on the expiry of contracts.
The best part is that they enable cloud-based documents that can be virtually signed by concerned parties without necessitating a print or scan.
7. Homebuilding and customization
Homebuilding was never easy but PropTech in real estate has made it simpler and customized.
The best PropTech company can guide you towards the right platforms and solutions.
AI-generated floor plans are now common and can predict the exact room dimensions and square footage.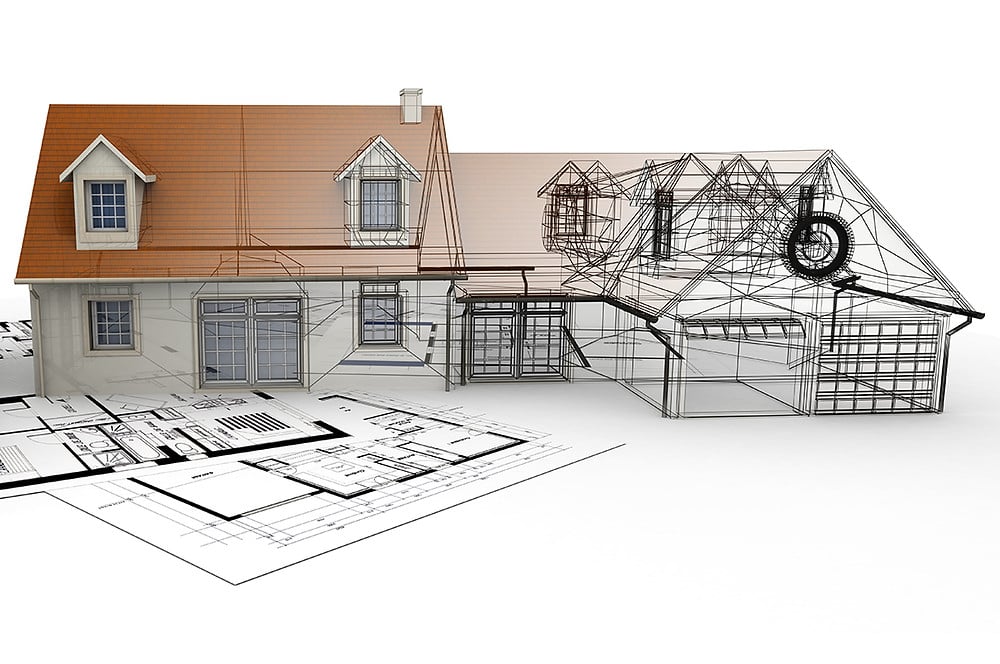 Virtual reality-enabled models allow rendering and customization in real-time empowering users to strike a balance between user-centric design, sustainability, and innovation.
With an accurate sense of the spatial relationship of rooms, the homebuilding experience gets better and precise.
Modern solutions allow you to visualize a personalized version of the property by choosing everything from furniture and fixtures to wall color and ventilation.
Take a leap with PropTech
As the millennial population continues to grow and digital transformation in real estate continues to move it into the eCommerce market, the role of PropTech in real estate will become more dominant.
But it's easier to adapt to the new digital ecosystem if you are prepared for it.
You can begin with assessing where you are now and where you wish to go with your digital journey.
You need to identify the challenges on the way to get there and realign your business goals accordingly.

It is advisable to have a dedicated team to drive PropTech endeavors and integrate them successfully across the business.
Alternatively, you may choose a digital transformation company that can re-evaluate your purpose and helps devise strategies that are in line with your overall business goals.
Our technology experts at TransformHub can help you pivot your organization with the right approach to respond with agility in a rapidly changing environment.
We will also help you fill skills gaps to create the right engagement avenues with PropTech.