An Insight into Product Engineering Services
6 min read
Apr 27, 2022 4:00:00 PM
Product Engineering Services use various programming tools, processors/microprocessors, memory devices, interfaces, operating systems, and UI Tools to develop and engineer a product. Aside from that, product engineering services consider numerous quality and environmental laws to guarantee that goods are deployed safely and securely.
What are Product Engineering Services?
Conceiving, designing, creating, testing, and delivering a product or application are product engineering services. The employment of embedded software, hardware design, and industrial design methodologies to produce an electronic product is called Product Engineering Services.
Product Engineering Services are provided by services or consulting firms in various fields, including Consumer Electronics, Industrial Products, Wearable Electronics, Medical Devices, Assistive Devices, Automotive Electronics, Aerospace and Defense, and more. In the present context, the product engineering services process strives to accomplish the following:
A product that is more adaptable and scalable
Improved user experience with new and improved features (UX)
Product cost optimization
Rapid time to market
The Embedded Product Engineering services process oversees a product's whole life cycle, from conception through deployment, including feasibility studies, design, and testing. Product managers, technical architects, business analysts, and other stakeholders are involved in the Product Engineering services process. As a result, product engineering services firms have discovered the value of producing more user-centric products and meeting a societal demand for the product over time.
Why the Product Engineering Services Are Important for your Business
Technology is changing at a breakneck speed, and you must keep up if you don't want to fall behind in the race. However, there are situations when business owners are hesitant to use a more complex strategy. Product engineering aids in lowering the risk factor.
The product engineering solutions provide best-in-class features and capabilities that can help you turn around your organization quickly.
Future driving technology is also nice enough to save money and time by eliminating hiring a new, highly skilled crew to design a software system.
With the support of system interoperability, it provides comfort and flexibility throughout company operations by hosting third-party devices and platforms.
You may put your firm on a technologically high-accelerating track and bring about a tremendous revolution by avoiding old approaches.
It enables entrepreneurs to keep abreast of the newest trends and technology comprehensively.
You may concentrate on developing company strategies while a competent outsourced IT Consultant organization handles the product engineering services.
You may provide your consumers with the most significant high-tech items at reasonable pricing.
With the paradigm transitioning from making a physical product to constructing bespoke software development, the strata of product engineering have changed. Product engineering works well with analytical services, assisting in developing technological goods that are tailored to your company's needs and target consumers.
Whatever product you're creating, whether ERP software or a technologically complex mobile app, you need to make sure the result is optimal and meets the customer's needs. This is where pioneer developing firms like TransformHub will shape better profits for you.
Process of Product Engineering Services
Hardware design, PCB layout and analysis, software and application development, testing and validation, product prototyping, production, and product lifecycle management are typical activities offered by embedded product engineering services businesses in India. So let's look at the product engineering process step by step.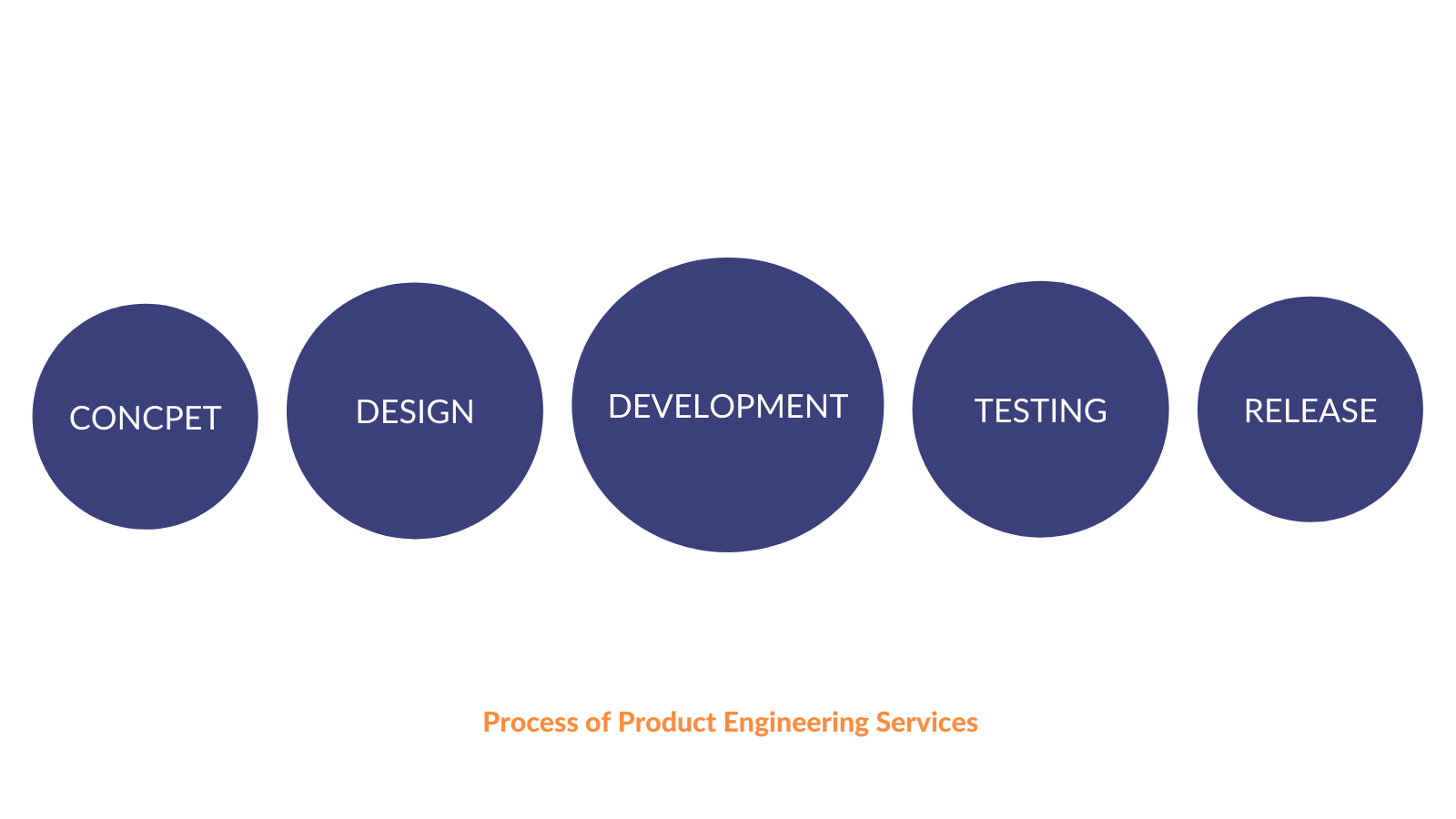 Concept (concept generation): This is the first step, which entails developing and documenting the idea in terms of specifications and requirements. The image is then further examined to see whether it is worthwhile to pursue. Though a notion may appear intriguing initially, it is not necessarily beneficial to seek.
Design: After the concept has been finalized, the following step is to create engineering designs to bring the idea to reality. Before the procedure is finished, any enhancements and adjustments are made during this phase.
Development: The next step involves creating or constructing the product. The project's implementation, as well as cost management and optimization, receive a lot of attention.
Testing: A created product must always go through rigorous quality tests to ensure that it is free of flaws and can be utilized as intended. During this step, any flaws must be found, and any necessary revisions, modifications, or corrections must be completed before the product can be released.
Release: The product is then introduced into the market after being created. Users' feedback must be gathered to enhance the development in future iterations. It may also be supplied to outside product testers to understand the user experience better.
Continuous maintenance and support must be supplied until the product approaches the end of its lifespan and is replaced by another product or version.
Maintenance/Re-engineering: After the product is introduced into the market, frequent updates and upgrades, as well as maintenance, will be sent out over time. A support system must also be built to address client complaints and resolve them as quickly as possible. Sustenance must be given for the product's specified lifespan.
Re-engineering is also vital since goods must be developed so that they can scale up to meet future client needs. This not only assists in meeting client wants but also enables product evolution.
According to Markets and Markets (Markets, 2016), the product engineering services market is expected to grow at an annual rate of 8.2% from 2016 to 2021, reaching USD 1,003.12 billion. Because the goal of these services is to enable clients to focus on their core business activities, consumer demand for outsourced product engineering services is expanding at an unprecedented rate today. In addition, such services also assist consumers in gaining significant benefits from low-cost technological leadership.
Outsourcing PES functions helps firms save money on service and production and helps them become more competitive in ways they couldn't imagine previously. For example, companies may use PES to:
Get the time and resources to focus on their core expertise while leaving the rest to the outsourced vendor's PES division.
Acquire knowledge in a new technological domain that was previously unavailable owing to time and budget restrictions.
Work across various new third-party devices and platforms to achieve system compatibility.
When responding to real-time consumer demands, become fast and agile.
To stay competitive, they must transform their historical services or products. This is another crucial area in which PES partners may contribute significantly.
When opposed to engaging with another firm, working with a PES provider is a better option to develop goods because such contracts protect your intellectual property (IP).
If you're a business wanting to outsource to PES solution providers, a vendor will follow standard standards to ensure you get the most out of your money and time.
Product Engineering Benefits and Importance for Business
The IT industry provides many opportunities for businesses and may significantly boost their performance. At the same time, developing a fantastic software solution that is both budget and time-management-friendly may be a significant problem. One of the many advantages of using Product Engineering Service for your company is that it can help you with this arduous procedure. Let's look at some of the others.
To begin with, it aids in the creation of a software product development plan. To stay ahead of the competition, your product must be creative. Your product gains value as a result of innovation. On the other hand, a fresh concept should always be put to the test. There are generally additional dangers when starting anything new and venturing off the regular path. In this instance, working with a Product Engineering Company may be pretty beneficial to your company. They can confirm the viability of your proposal by gathering a large amount of data on potential product functionality.
The software has become an integral aspect of corporate growth and now accounts for a considerable portion of ROI investment. As a result, enhanced software testing methods will enable you to meet your business goals in the quickest period possible while still delivering a high-quality final product. With Product Engineering Services, you can be confident that your product has been thoroughly analyzed and tested to achieve the highest quality and user satisfaction.
You may focus on achieving business goals, marketing, and, overall, effectively implementing your business strategy by outsourcing the product development process to Product Engineering services.
TransformHub At Your Service
Please contact our product development team if you want further product engineering assistance or like to discuss your product development. We would be pleased to discuss your ideas and may even be able to assist you with resources and implementation.
These are the options we offer to persons in your position who will organize the development of your new product until mass production begins:
Support for new product industrial design - we can help you with product design and discover the appropriate solutions at the right price.
Our engineers create and implement a new product introduction process to ensure that your new product is mass-produced on time, on budget, and to the appropriate quality level.
Prototype development — we swiftly make a prototype of your concept to test and validate it, then incorporate input and adjustments to make it easier to manufacture.
For better understanding, how about you give us a call at +65 31384660 or send us a mail on: sales@transformhub.com.